PLAY WATERFRONT VIDEO
---
Property Taxes in New Bern and the surrounding area are considered reasonable by many that relocate here from other states. Property valuations were last set in 2016.
Click the link below for New Bern And the surrounding area property, sales, and income tax information.
---
New Bern has a rich and varied history. Downtown New Bern is one of the finest historic districts in the nation with many beautiful homes dating back to the late 1700s and early 1800s. There are the large and palatial ones with beautiful garden areas as well as small bungalows.
The downtown business district has come alive with arts, music, restaurants, and coffee houses. The following links will give you a good insight into the unique history of this beautiful historic river town.
Click Here to learn more about the History of New Bern

Click Here

to learn about The Battle of New Bern

Click Here

to learn about James City, Home of the Freedmen
New Bern's Regional Hospital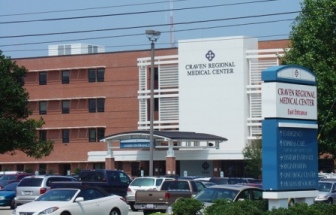 New Bern, has an excellent regional hospital with over 340 beds and 200 physicians.
The March issue of Business North Carolina features "The State's Top Hospitals" and CarolinaEast is listed in four categories. The Business North Carolina "Top 25 Best Hospitals" saw CarolinaEast tie for fifth place based on criteria from several respected rating agencies including Centers for Medicare and Medicaid Services, Blue Cross and Blue Shield, U.S. News and World Report and The Leafrog Group. Blue Cross and Blue Shield ranked CarolinaEast Medical Center a Cutting-Edge Hospital for Cardiac Care and U.S. News and World Report named CarolinaEast a Top Performing Tar Heel Hospitals regionally for Chronic Obstructive Pulmonary Disease (COPD) and Heart Bypass Surgery.
In addition, The Centers for Medicare and Medicaid Services (CMS) released the hospital star ratings on July 27th and CarolinaEast Medical Center is the only hospital east of Interstate 95 to receive the highest rating – five stars. Nationwide, only 2% of hospitals achieve the 5 Star Rating.
They have a comprehensive heart center that performs coronary bypass and catheterization. In addition, they have dedicated units for cancer, intensive care, women's care, and pediatric care. The diagnostic center provides radiography, MRI, CT scanning, stereotactic mammography, bone densitometry and many other tests.
In 2014 Carolina East Hospital announced a collaborative partnership with the University of North Carolina Cancer Center to diagnose and treat cancer right here in New Bern. Construction on the Cancer Center, shown in the photo above, will begin in early 2017.
UNC will now be rotating some of their best cancer doctors to New Bern to treat patients here. Now you will be able to get world class oncology care without leaving New Bern.
Click Here to learn more about Carolina East Hospital.
Need help finding a physician? Call Physician finder 252-633-8102.
---
New Bern's Regional Airport

New Bern has an exceptional regional airport with 3 direct flights daily to Atlanta and 7 direct flights daily to Charlotte. From these 2 airports you can can make it to your destination with one flight most of the time.
The Airport is located about 3 miles from Historic Downtown New Bern. A few years ago New Bern's Airport was named one of the Top 10 stress free Airports in the U.S.
Click on the Airplane to get information on flights to and from New Bern. Located just across the Trent River from downtown it is just minutes away from the many areas of interest in Eastern North Carolina. The New Bern Airport was voted as one of the 10 least stressful Airports in the USA. And after you use it you will understand why.
Local Clubs and Organizations
Many of the retirees that have moved to New Bern from other states have brought with them a wide range of interests. As a result, New Bern offers a taste of cultural experiences that you would normally only find in a larger metropolitan area.
Whether it is music, theartre, antique cars, quilting, computers, astronomy, bridge, art, whatever your interest might be, you are sure to find others that share your passion.
We encourage you to get involved with the many local non-profits, and so very many have. As an example of the 400 volunteers at our hospital, probably over half of them are retirees that have moved here from other states.
The bottom line, you won't be bored in New Bern.
Click here
to see a partial list of clubs, organizations, and non-profits in New Bern and the surrounding areas.

New Bern, NC has a plethora of festivals, parades, and assorted activities going on year around. In the Summer and Fall, downtown New Bern comes alive. Music in the park, three very active civic theaters'. The Hilton has live music 3 nights a week. Expect to hear live music every weekend at one of the 6 bars downtown several times a week. There are some really talented musicians in the area that play variety of music.
There is always something exciting going on downtown. During the spring, Summer, and Fall there is a monthly Artwalk downtown. New Bern is fast becoming known as the city of artist and the Artwalk gives all of our artist a chance to display their unique work.
To view a New Bern Calendar of Events,

Click Here
How is the Weather in New Bern?
New Bern has a mild climate with 4 distinct seasons. While summers can be hot, they are probably not much hotter than many areas of the Northeast. If it is 95 degrees here, it is probably close 95 in the D.C. or coastal New York area.
Winters are mild and allow for golf, boating, and other outdoor activities pretty much year around. That is not to say that we do not get any freezing weather, however it is infrequent and considered mild by Northeast standards.
It is interesting that we get quite a few folks that move here after retiring and moving to Florida. When I ask them why, many times they say that it is to toohot for too long and that Florida lacks nice Spring and Falls. Also, Florida is Hurricane Alley, and I am not talking about mild Hurricanes. We are talking about Cat 4's and Cat 5's. In the history of N.C. we have only been hit with one Cat.4 Hurrican and that was over 60 years ago.
New Bern has some great golf courses that are both affordable and challenging. When I am not working or boating, golf is what I like to do. Click the link below to learn more about golf in the New Bern area. If you have any questions shoot me an email.
If tennis is your sport, you will not have trouble finding a game in New Bern.
Click Here for more Tennis Info
The influx of retiree's, many of whom came from large metropolitan areas has significantly added to the cultural awareness of the city. I challenge you to find a more active threatre group in a small Southern town. I don't think you will.
Click below to find out more about the threatres in the New Bern area.

Click Here for Theatre Information

Add all this up and you will see why New Bern is such a retirement destination. If you have any questions about the area please send me any email at or send me a text at 252 514 9157.
Search for Homes in New Bern and the Surrounding Area

Waterfront Homes

Historic District

Golf Course Homes

Popular Retirement Communities

Oriental Homes For Sale

Homes Creekside Elementary

New Home Construction

Homes Near Cherry Point

Waterfront Lots-New Bern
Homes $100,000-200,000

Homes $200,000-$300,000

Homes $300,000-$400,000

Homes $400,000-$500,000

Homes $500,000-$700,000

Homes over $700,000

4+ Bedroom Homes

Condos and Town homes

Homes on Duke Energy

Steve and Jana Tyson sold over $50 million of Real Estate in the past 2 years and over $150 million in the past 10 years. The Tyson Group are "Leading The Market, Sign up to Sign Down".